Low Energy Pools in Orange County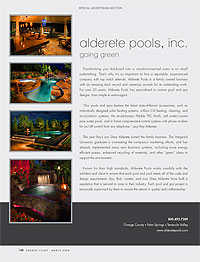 Click for larger view
Our low energy pools in Orange County and the surrounding areas feature the latest state-of-the-art construction techniques and accessories, such as individually designed solar heating systems, in-floor Ecopool by paramount heating and re-circulation systems, the revolutionary Pebble and Glass finishes, the Clear03® Ozone Water Purifying System by Paramount, and in home computerized control systems with iPhone,iPad iPod Touch option for total control from any telephone.
Transforming your backyard into a vacation-inspired oasis is no small undertaking. That's why it's so important to hire a reputable, experienced company with top notch referrals. Alderete Pools is a family owned business with an amazing track record and numerous awards for its outstanding work. For over 30 years, Alderete Pools has specialized in custom pool and spa designs, from simple to extravagant.
This year Ray's sons Shea Alderete and Toby Alderete joined the family business. The Vanguard University & Point Loma Nazarene University graduates respectively are overseeing the company's marketing efforts, and the company's a Solar Electric Division, they have already implemented many new business systems, including more energy efficient pumps, enhanced recycling of materials, and other "green" ideas to support the environment.
Known for their high standards, Alderete Pools works carefully with the architect and client to ensure that each pool and yard meets all of the code and design requirements. Ray, Shea and Toby Alderete have built a reputation that is second to none in their industry. Each pool and spa project is personally supervised by them to ensure the utmost in quality and craftsmanship.
For more information on low energy pools in Orange County and the surrounding areas contact us today!